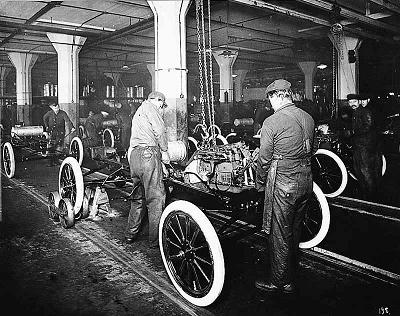 I grew up in the Detroit area.  My dad was a machinist in a factory.   My girlfriend's dad worked on the assembly line at Ford.  When I was 17, my dad invited me to join him at the factory.  I know a think or two about being a cog in a machine (ironically, Pink Floyd had just released this song when my dad invited me to apprentice at his shop).  Most of the people I went to high school joined the union and became cogs in a machine.
Henry Ford made the Machine possible.  He followed an innovation from the meat processing industry, assembly lines, and added replaceable parts and highly specialized jobs.  Labors became part of the machine.  Specialized management developed to focus the laborers' efforts.  A Command and Control environment developed.  Efficiency gains were enormous.
The cog workers didn't understand the global pressures the companies were under.  They couldn't because a significant rift had grown between the knowledge holders (management) and the laborers (cog workers).  Cogs united to fight back and made collectively selfish and personally destructive demands.  Those demands accelerated the growth of outsourcing and automation, hurting the people the unions thought they were helping.
Cogs are Replaceable
Being a cog in a Machine is a precarious place to be.  The cog thinks he is safe… thinks so long as he does his part, he will continue to be paid his wages.  The cog has no understanding of the big picture, and the division of labor fostered that lack of understanding.  In a Command and Control envirnment, knowledge is carefully guarded: Knowledge of business information, management techniques and industry trends.
The internet has changed that.  Cog workers no longer need to be out of the knowledge loop.  Google made it possible for Cog workers to research industry trends.
Some Cog workers are starting to understand that the companies are not the enemy.   These workers want a place at the management table, not through a union representative, but as an employee.  As these workers educate themselves, they begin to lose the Cog designation and start to be worth more to a company.
Turning Cogs into Linchpins
Let's assume you are one of these new Cog workers who wants more from your professional life.  Gaining industry perspective is not enough to move from Cog to what Seth Godin calls a Linchpin.  To do that, you must become indispensable.   Your industry knowledge needs to be shared… with those in your company and in other companies in your industry.  Your insights will make you more valuable… more sought after… you will develop a following.
In the old days, you would need to join social clubs or attend networking events.  One by one, you would sort through your acquaintances looking for people to build your following.  After years of diligence, you would have identified a small group of followers.
Enter social media.  The years of effort to build a following just shrunk to weeks… and your locality no longer limits the number of people you can network with.  LinkedIn allows you to search for people across the globe that are in similar industries.  LinkedIn Groups allow a forum to discuss and hone your insights.  Your insights can and should be shared with your company.  The more you share with them, the more indispensable you become.  You are no longer an easily replaceable Cog… you have transitioned into a Linchpin.  Now your future is secure.
What are you waiting for?  Start digging into your industry.  Build a LinkedIn profile, join or create industry groups and get started.